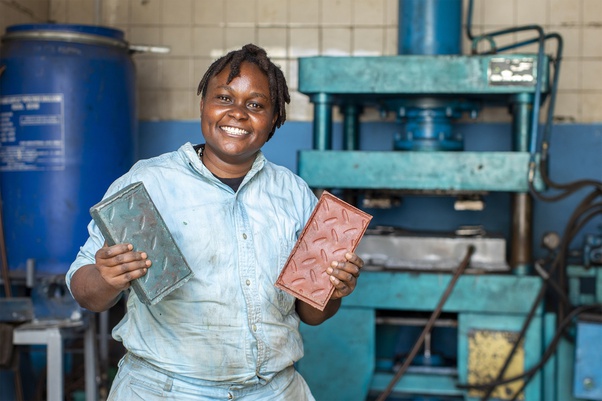 Plastic often gets a bad rap due to its production and harmful impact on the environment, but this Kenyan woman is repurposing plastic for a better 2nd life – along with helping her community.
A new purpose for plastic
Nzambi Matee is a 29-year-old entrepreneur from Nairobi, Kenya, and founder of a startup called Gjenge Makers Ltd. Her company handles recycling plastic waste and repurposes it into pavers that are STRONGER than concrete.
The idea came from a prototype machine that was able to turn used plastic into paving blocks. A day at the factory using these machines creates 1,500 plastic pavers that are not only durable but affordable as well.
How it all started
Before starting the company, Matee majored in science and was employed as an engineer in Kenya's oil industry. In 2017, she shifted direction and focused on creating and testing pavers.
Through trial and error, Matee was able to create these pavers using a combination of sand and plastic. She received the materials for free from packaging factories and other recycling facilities.
Matee stated, "It is absurd that we still have this problem of providing decent shelter – a basic human need. Plastic is a material that is misused and misunderstood. the potential is enormous, but its afterlife can be disastrous."
During her experimentation phase, she was able to figure out which plastics bind best and then designed the machines that would be able to make the pavers on a mass scale.
Helping a community prosper
So far, Gjenge Makers has recycled more than 20 tons of plastic waste into paving bricks. The bricks come in various colors like red, green, blue, brown, and more.
Apart from the color, they're extremely durable. They're tested to hold double the weight threshold of concrete blocks.
The business has also been able to help the community by creating 112 job opportunities for trash collectors, women, and youth groups.
Expanding this idea could potentially help build other durable infrastructure in underdeveloped countries and provide useful skills for the people in the community.
What other things do you think these types of repurposed pavers can be used for? Should they become more widespread even in developed countries?
(Article courtesy of blog.giddyup.io)