By Gift James

The recent floods in Nigeria in 2022 resulted in over 600 deaths, 2,400 injuries, and the displacement of 1.4 million people due to record rainfall and fallouts from climate change. The disaster impacted multiple regions and caused damage to 200,000 homes and over 300,000 hectares of land. The urgent need to restore infrastructure has been met with support from individuals and various organisations, one of them being OctaFX.


OctaFX formed partnerships with dedicated small groups and individuals in Anambra and Bayelsa to ensure aid reached overlooked communities. Extensive research was conducted to determine the most effective way to assist, and plans were put in place to provide support in the aftermath of the flood.

In particular, in Anambra State, OctaFX worked with a local family-led NGO headed by Ndu Onyinye, an experienced older woman and headmistress of Anam New City School, a public institution owned by the NGO. The floods had caused extensive damage to the learning boards and furnishings used by students in Anambra State, so the focus was on renovating equipment for further education. As a result, the renovated classrooms are now well-equipped and provide a more conducive learning environment for the students, contributing to a successful and delightful school term.

In Bayelsa state, OctaFX collaborated with the remarkable Chris, a rising cinematographer whose source of income and home were affected by the flood.
OctaFX's support uplifted the morale of many communities affected by the disaster. The objective was to aid recovery and foster market growth, benefiting more individuals. In furtherance of this goal, 65 local farmers received farming supplies, including Yam and Cassava. The initiative encouraged the farmers to increase their production, leading to a more sustainable food supply for the community.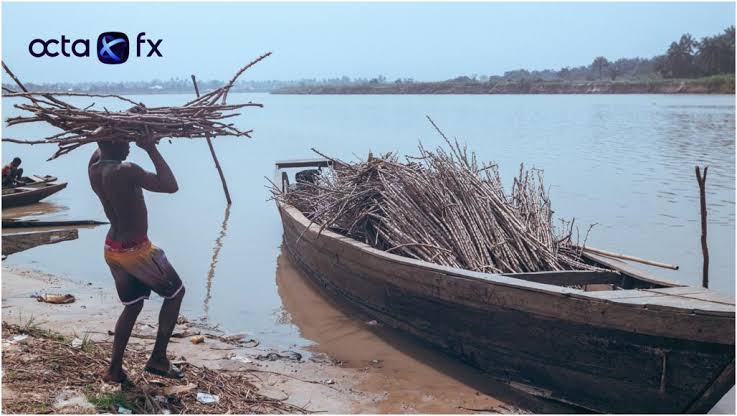 Additionally, OctaFX provided 42 small businesses with financial support to either revive or restart their operations. These businesses included poultry farmers, cybercafé owners, roadside traders, and many more. One of the businesses, a dry-cleaning service, was in a difficult situation after the flood destroyed their generator. OctaFX funded the repair of the dry cleaner's generator, much to the owner's delight. OctaFX also aided a school by providing new whiteboards after the previous ones were damaged in the floods.

The Post Flood Support Initiative has created a positive chain reaction of value. The company's commitment to providing aid in the form of financial support and essential supplies has helped alleviate some of the difficulties faced by those affected by the disaster. OctaFX's aid shows the significance of corporate social responsibility and its ability to impact communities positively. It highlights how companies can play a crucial role in promoting local economic growth and development.

OctaFX is a global broker providing online trading services worldwide since 2011. It offers commission-free access to financial markets and a variety of services already utilised by clients from 150 countries who have opened more than 12 million trading accounts. Free educational webinars, articles, and analytical tools they provide help clients reach their investment goals.